Global delivers the energy, products, and services people need every day to make life easier.
As one of the Northeast's largest independent owners, suppliers, and operators of gasoline stations and convenience stores, reliability, quality, and community are key to everything we do.
We are proud to support the communities where we live and work. Our efforts to be a good neighbor began more than 75 years ago, when our company began delivering heating oil – door to door – in the neighborhoods around Greater Boston. These efforts continue through our active giving program, which enhances good works in communities across the country.
Today, Global owns, controls, or has access to one of the largest terminal networks in New England and New York.  We source and transport petroleum products and renewable fuels through our vertically integrated, adaptive distribution network across the U.S. and Canada. In addition, we are a leading wholesale distributor of petroleum products in New England and New York. Through our network, approximately 1M automobile tanks are filled per day. Customers stop at one of our gasoline stations to fill their tanks, recharge with a fresh cup of coffee, or grab a snack.
Our vertically integrated model gives us the unique ability to adapt when markets change, creating stability for our customers, all while conducting a business that's been guided by family, with integrity and respect, since 1933.
Our history
More than 75 years ago, the company began with a single truck. In 1933, Abraham Slifka opened Slifky's Reliable Oil Burner Service, delivering heating oil that provided warmth to Boston businesses and families during the Great Depression.
As America turned to heating oil from coal and other fuel sources, the company grew. The next generation, Slifka's sons, Fred and Richie, expanded into wholesale fuel distribution and trading, buying their first terminal in Revere, Massachusetts, and eventually buying and storing heating oil and other products from all over the world.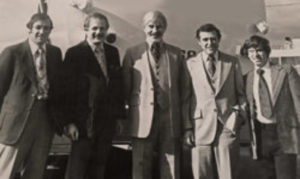 During the 1980s and 90s, the company expanded into the retail gasoline business with the purchase of several chains throughout the Northeast. In 2005, founder Abraham Slifka's grandson, Eric Slifka, became President and Chief Executive Officer of Global Partners LP.
Global Partners today
Today, we are the adaptive distribution energy company. Fueled by investments in our vertically integrated network, adaptive distribution enables Global to respond to market changes efficiently, ensure the balance of supply and demand, reduce uncertainty and preserve strategic independence.  Whether you're driving the kids to school, picking up a healthy snack on the go, heating your home, or using fuel to operate your business, our network supports you.
As a third-generation, family-founded business, in everything we do, we retain the values Abraham Slifka instilled in his children and grandchildren — integrity, generosity, and a strong work ethic.